B2B CFO Leads Industry Shift, Offering Unmatched Control in Business Sales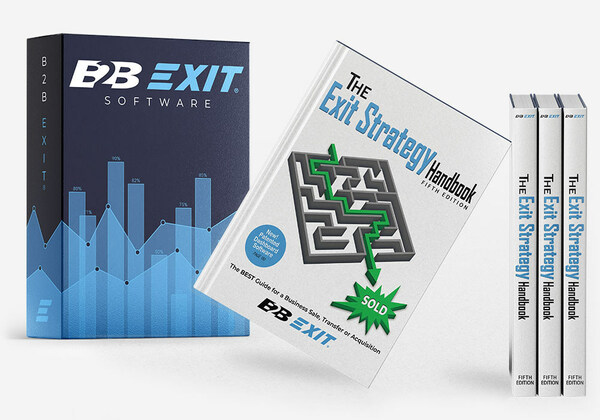 CHANDLER, Ariz., Oct. 17, 2023 /PRNewswire/ — B2B CFO unveils B2B EXIT today, addressing an industry void for specialized guidance in business sales and positioning the company as the ultimate control tool for business owners considering a sale. This introduction represents the culmination of a decade of industry-altering research and development.
"Our company has lived and breathed this industry for years and we saw a glaring gap. Business owners lacked a resource offering them genuine control during the sales process. B2B EXIT changes that," said Jerry L. Mills, Founder and CEO of B2B CFO and B2B EXIT, reaffirming the company's commitment to revolutionizing the business sales landscape and empowering owners to secure the deals they deserve.
The timing is especially compelling, given the recent insights from BizBuySell Insight Report, which depicts an increasingly complicated landscape for business sales. BizBuySell Insight Report signals both challenges and opportunities in the marketplace. While the report highlights increasing complexities in deal structures, it also identifies promising trends for both buyers and sellers. The report quotes Kentucky-based business buyer Barrios, who predicts that 2023 and 2024 will offer the best opportunities for acquiring well-established businesses at good prices and profit margins, provided buyers are well-informed, financially prepared, and passionate about entrepreneurship.
The need for B2B EXIT is further underscored with data cited by Growth-Drive, which reveals a pressing concern: while 17% of business owners are preparing to sell their companies, a staggering 95% of them cannot maximize the transferable value of their business. George Sandmann, founder of Growth-Drive said: "In our survey, 19 out of 20 business owners lacked the strategic capacity needed to successfully complete a sales transaction and therefore maximize the transferable value of their business to meet personal wealth goals."
These statistics underscore the importance of B2B EXIT, a solution that not only empowers owners to retain control but also enhances the overall enterprise value of their business. This is where the B2B EXIT "Combined A-Z Process & Timeline" comes into play—a distinctive feature developed through a decade of dedicated research. "It's a roadmap, crafted over years, that places actionable insights and control directly into the hands of owners," Mills explained. "It's this kind of foresight that sets B2B EXIT apart. There is no one else offering a process like ours. We have mapped every step of the journey that owners should take when they sell their business."
Where B2B EXIT truly stands apart is in its patented Dashboard Software. "This software is based on a decade's worth of experience and research. We're not just helping business owners navigate sales. We're giving them the tools to steer their own course," emphasized Mills. The software offers real-time updates and sends out alerts for overdue tasks—critical features to keep a deal on track, since professionals know that "time kills deals."
This product suite is a direct result of ten years of R&D and embodies a new standard for business sales, setting B2B EXIT apart from any other service available. In fact, in 2013 when Jerry L. Mills first introduced the firms' focus on exit strategies, he was recognized as a finalist for the Middle Market Thought Leader Award, an annual honor bestowed by the Alliance of Merger & Acquisition Advisors® (AM&AA), the leading association and credentialing body for middle market M&A professionals.
Beyond its groundbreaking software, B2B EXIT continues to provide value through other resources, including its proprietary "The Exit Strategy Handbook." These materials align with the foundational principle of owner control and knowledge, values embedded in the DNA of the company. "We have always focused on education," said Mills. "All of the resources we have are there because we want to educate business owners, so that they understand the process. They understand the process by reading the book and control the process by using the Dashboard Software. It's designed to work this way."
The Exit Dashboard Software is available exclusively to the firm's clients. Comprising seasoned Exit Advisors with an average of 20 years experience, B2B EXIT delivers on its promise of giving control, guiding, and educating owners through the complexities of the sales market. Unlike M&A firms, which only focus on a small part of the sales cycle, our Exit Advisors use the process to address everything business owners face when preparing for a sale from start to finish.
To ensure regulatory compliance and qualified buyer acquisition, B2B EXIT highly recommends its clients work exclusively with FINRA-licensed broker-dealers. These professionals are integral to the Success Team's efficacy, offering expert advice throughout the sale process. However, the market isn't devoid of pitfalls. To assist clients in making informed decisions, B2B EXIT provides a comprehensive guide on due diligence. Whether it's running a FINRA BrokerCheck or scrutinizing state securities regulation, the guide serves as a critical resource. "Broker-dealers are a pivotal element in our approach, with a focus on ethical practices and regulatory compliance. We encourage our clients and all business owners to perform rigorous vetting, ensuring that their choice aligns with these standards," added Mills.
For business owners considering a sale, the time for action is now. With the unique resources and patented Dashboard Software offered by B2B EXIT, control and success in the increasingly complex sales market are within reach. For more information visit www.b2bexit.com
About B2B CFO and B2B EXIT
Founded in 1987 and pioneering exit services since 2013, B2B CFO has spent a decade focused on R&D under the leadership of industry innovator Jerry L. Mills. The company specializes in delivering unparalleled control to business owners navigating the complexities of the sales process.
About the BizBuySell Insight Report
The BizBuySell Insight Report is a quarterly economic indicator that assesses the U.S. small business market. Drawing from 50,000 listings and recent sales, the report tracks key metrics like transaction rates and valuation multiples. Since 1996, BizBuySell has been a leading online marketplace for buying and selling businesses, attracting over one million visitors monthly. The platform also offers a franchise directory and business valuation tool.
About Growth-Drive
Growth-Drive is a national resource for business advisors, offering its subscribers additional knowledge, tools, data and support they need to best serve their clients.