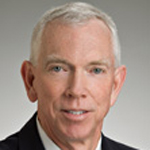 B2B CFO is pleased to announce its expansion in South Carolina with the addition of Henry Reynolds as the firm's newest partner. Reynolds is joining B2B CFO after a 25-year successful corporate career in finance. He joins four other B2B CFO Partners in South Carolina who currently provide CFO services to local business owners.
With close to 200 partners across the country, B2B CFO, is the nation's largest CFO for hire firm. The part-time/as-needed CFO role is a hallmark of the firm that provides services exclusively to emerging and mid-market companies. Reynolds joined B2B CFO as a partner in February. Reynolds's clients will benefit from his combination of executive finance and consulting experience supported by the depth of resources provided by the national firm.
Prior to joining B2B CFO, Reynolds served in several financial oriented positions including CFO, Controller for companies with revenues up to $200 million. As a CFO in the construction industry, he managed all financial and banking functions for a large domestic heavy construction company with international operations as well as several other domestic affiliates.
Reynolds was instrumental in the company's doubling of growth during a two year time period. By instilling discipline into the accounting analysis and reporting process, lead time between monthly closings and financial statement presentation were reduced from 2 months to 21 days.
"We welcome Henry to the B2B CFO Partnership. In many ways he represents a snapshot of the organization: business experience and an entrepreneurial outlook, with deep roots in finance and strong connections in the community," said Jerry L. Mills, founder of B2B CFO.
In his role as B2B CFO Partner, Reynolds offers business owners of privately held growth-oriented businesses the opportunity to have an affordable trusted business advisor. Unlike a contract controller or interim CFO, a B2B CFO Partner works to create a long-term professional relationship to help the company grow its profitability and cash flow.
The economic environment for small businesses in South Carolina, as in the rest of the country, has proven challenging but things seem to be on their way back up. According to a recent survey conducted by the Wall Street Journal economists around the country predict quarterly growth in 2011 to surpass 3.2 percent.
"As a long time property owner and resident of the Low Country, and having held a senior level management position for a local construction company for the last 5 years, I bring an immediate understanding of the business drivers, needs and culture to business owners in the area," said Reynolds.
For the business owner, Reynolds brings a unique business perspective having served as CFO and President. He is able to draw on his broad industry experience in finance, forecasting, combined with his executive management skills enable him to be a key and trusted advisor to any CEO and their organization.
Reynolds holds a Bachelor of Science in Accounting from Virginia Tech and an MBA from James Madison University. He is a member of the South Carolina Society of CPAs. He and his wife Kitty live in Hilton Head Island. Reynolds is an avid runner and active in the Indigo Run Men's Golf Association.