More than 300 Gather in San Antonio, Texas to Recognize Outstanding Partners and Celebrate Company's Success and Growth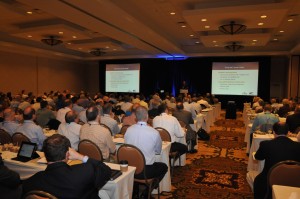 Phoenix, Ariz., May 2, 2011 – B2B CFO, the nation's largest CFO services firm, recently concluded its sixth annual National Partners' Conference in San Antonio, Texas. Held at the Embassy Suites on the historic Riverwalk, the conference was attended by more than 300 participants including partners, service providers, sponsors, speakers and guests.
Held on April 29th and 30th, the conference was used as a platform to unveil B2B CFO's new network portal and marketing strategies, recognize outstanding partners and provide a preview of new programs and training opportunities for 2011. The busy agenda featured more than 15 educational sessions highlighting best practices, industry statistics and product/service information from title sponsors.
SAP Business byDesign™ and Lockton® & Principal Financial Group® were the Title Sponsors for this year's conference. Gold sponsors included: SES Advisors, Inc., GrowthForce, and AICPA/CPA2Biz. Silver sponsors were: Cost Segregation Services, Inc., Charter Capital, Chief Outsiders, Entrepreneur Growth Capital, LLC, Reference Services, Inc. State Tax Advisors, Ivis.com, eXemplify, Inc.; Transwestern, Intuit and Oasis Outsourcing.
"It was my pleasure to welcome all of this year's sponsors to our conference," said Jerry L. Mills, founder and CEO of B2B CFO. "We expect that as a result of this unique cross-industry collaboration we all will be better ambassadors for each other's products and services and further our understanding and knowledge of how to best serve our marketplace."
The conference also included guest appearances from speakers and VIPs. Dave Sherman a renowned authority on mastering the fine art of networking energized the crowd with easy to implement strategies for expanding your network. Matt Bud, Chairman of Financial Executives Network Group (FENG) spoke to the group about best practices for managing multiple relationships with CEOs. John Leonetti of Pinnacle Equity Solutions and B2B CFO Partner Jane Johnson presented on the topic of exit strategies.
B2B CFO Partners Kenneth Knapik and M. Martin Mercer shared best practices on referrals and broker/dealer licensing, while Partners David Kirkup, Ron Baker and Mike Champion walked away big winners taking the top three cash prizes for most outstanding blogs.
Evening receptions at the outdoor Riverwalk Terrace provided a great opportunity for all conference participants and guests to mingle and network.
"This conference most definitely raised the bar for next year," added Mills. "One theme that clearly stands out is the incredible enthusiasm and passion from all our partners for what we do. I expect that as we grow, so will everyone's commitment to playing a role in making our company the world's largest CFO provider."
The 2012 National Partners' Conference will take place May 4-5 in Las Vegas, Nevada. For sponsorships or information please contact B2B CFO at 602-296-6888.
ABOUT B2B CFO
Headquartered in Phoenix, Ariz., the firm was founded in 1987 by Jerry L. Mills who pioneered the "CFO for hire" concept. Today, B2B CFO is the nation's largest CFO firm serving entrepreneurial, growth and mid-market companies. The firm's partners have an average of 25 years of experience and each individual partner is a senior level executive with a broad range of expertise. Please visit online at www.b2bcfo.com
###